Summer might be over for another year but an outdoor pursuits company based in Brantingham Lake, NY (+1 917 553 0212), has announced updated recreational vehicle rental services for the fall and spring seasons.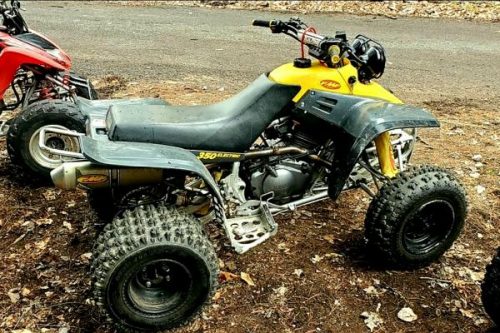 Greig, United States – September 30, 2021 /PressCable/ —
Grant Island Rentals LLC has launched an expanded selection of all-terrain and utility task vehicles (ATVs and UTVs) for rent. The 4-wheeled motorbike rental range offers customers a dynamic off-road experience that can be enjoyed year-round and in all weathers. Customers love going mud-bogging and exploring the rugged upstate NY trail system.
More details can be found at https://grantisland.com
The company's latest announcement details competitive rates for the hire of top-of-the-range quad bikes. The ATVs can be rented for periods of 4 or 8 hours and come ready for riding with a complimentary full tank of gas, helmets, and gear. Grant Island Rentals offer customers access to a variety of trails in the Lewis County Region – direct from the vehicle pick-up spot – some of which can be previewed through virtual tours on the company's website.
According to MotoSport, ATVs have been around since the 1960s. Early versions had 6 wheels and were known for their amphibious functionality. Subsequent updates to the design saw 3-wheel versions until today's standard quad versions became the norm in the early 1980s with the release of the Suzuki Quadrunner 125.
The newly updated ATV range includes the Honda 400 EX 4-wheeler – a classic quad bike renowned for its reliability and user-friendly handling and control. While there are more powerful models, the 400 EX represents a safe and solid choice for less experienced riders looking to get a feel for the off-road biking experience.
The Honda 400 EX is only suitable for one rider and customers must be 18 years old or over. Riders for the Honda 400 EX should be proficient with using a clutch. Parking for customer vehicles is available at $5 per hour and can be booked in advance for maximum convenience, directly from the companies website.
For less experienced riders who are not so good with riding a clutch or manual vehicle, Grant Island offers two vehicles that are fully automatic so riders can completely focus on the trails and their riding enjoyment.
One is the CFMoto 600 Touring Edition for two riders as well as their very popular CFMoto 800 Trail Side by Side.
The CFMoto 800 Trail SXS utility vehicle features electronic power steering, a multi-function digital dashboard, 11.2" ground clearance, front side winch, 4 wheel drive, and adjustable coil-over nitrogen gas shocks. The dual rider configuration makes it an ideal choice for friends looking to share the quad bike experience. Side by Sides are the modern-day dune buggies, configured the same as a car where the driver and passenger sit 'side by side' with one another.
Another add-on Grant Island Rentals offers is a variety of Go Pro Rentals ranging from the basic and small Go Pro Session to the latest technology, Go Pro 360 max. With the Go Pro Max, you can capture full 360 panoramic video and images so you'll never miss a moment or event.
About Grant Island Rentals LLC
Grant Island is situated in the southwest bay of Brantingham Lake in upstate New York. The company offers several rustic cottages for rental on their island in addition to the variety of vehicles they offer. Not only do they rent ATV's but they keep the fun going on the water as well. In addition to Jet Ski rentals, they offer a variety of other water sport pursuits such as kayaking, stand-up paddle-boarding, mountain biking, canoeing, sailing, and paddle-boating.
Grant Island Rentals currently boasts a perfect 5-star customer satisfaction rating. One satisfied customer named Tania says, "My family and I spent two days on Brantingham lake renting ATVs and Jetskis from John! We had such a blast touring the lake taking in the views creating memories. The owner John Paul Pfeiffer is very honest and very personable. Very laid-back guy. When we got there he made us feel comfortable with the Jet skis And ATVs. We rented Jet skis for 4 hours one day and the next day did a 4 hour ATV trail. The prices are reasonable for the amount of time you are out creating memories and takin in the views. John was available if we needed him or had any questions. The island is breathtaking and we're hoping to build many more family memories there!!!! Thank you so much John we will be seeing you soon!!!."
With its latest launch, Grant Island Rentals is setting the standard for affordable and seamless ATV experiences in upstate New York. Their state-of-the-art website makes online reservations quick and easy. When taking off from their location they'll tell you to 'Bring it back dirty'.
For more information, please visit https://grantisland.com
Contact Info:
Name: Grant Island Rentals LLC
Email: Send Email
Organization: Grant Island Rentals LLC
Address: 5556 North Shore Road, Greig, NY 13345, United States
Phone: +1-917-553-0212
Website: https://grantisland.com
Source: PressCable
Release ID: 89047448
Grant Island Jetski and ATV Rentals